Rosśa Crean is a multi-genre recording artist and composer, so don't be afraid of the variety! You can also listen to a lot of Rosśa's work at Soundcloud by clicking here.
Rosśa is always for hire for multimedia and film projects as well. Check out the COMPOSITIONS page to listen to past works!

The first showcase of the ROSS CREAN PRESENTS series, A QUEER ENGAGEMENT, showcases the works of LGBTQIA+ composers and performers. The first half is an art song cabaret, featuring songs by Kyra Leigh, Steven Serpa, Tony Solitro, Tommy Bravos, Mo Zhao, and Paula Kimper. Our second half is the midwest premiere of Ross Crean's queer-themed sequel to Don Giovanni, The Times Are Nightfall, featuring soprano Sarah Thompson Johansen & mezzo-soprano Marysa Abbas.
OUR PROGRAM: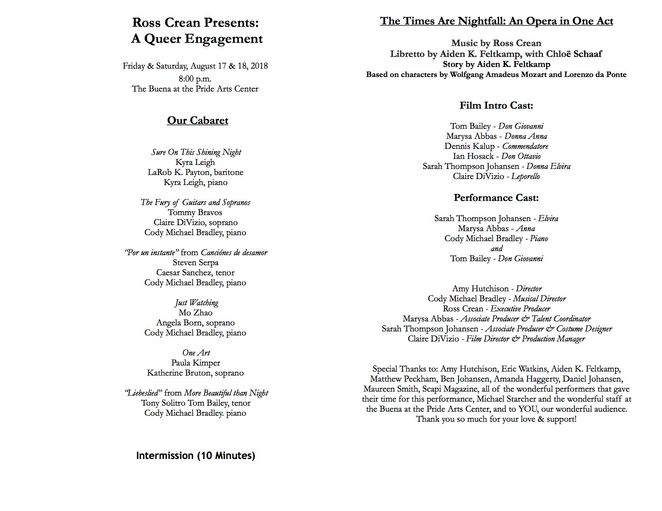 OUR PERFORMERS:
A native of Temple Hills, Maryland, Bass-Baritone, LaRob K. Payton has performed leading roles in DePaul Opera Theatre's main-stage productions including Pistola (Falstaff), Superintendent Budd (Albert Herring), Colline (La Boheme), Giove (La Calisto), and Thoas (Iphigenie en Tauride), and studied with world-renowned teachers, directors, and coaches, including Michael Sylvester, Marc Embree, Harry Silverstein, Steven Mosteller, and Loren E. Meeker. LaRob has had musical opportunities that include traveling to study language, culture and music in Urbania, Italy (Musica Nelle Marche) and San Miguel de Allende (Istituto de Bel Canto). He has performed with the DePaul Chamber Orchestra (Des Knaben Wunderhorn, Mahler), Chicago Summer Opera (Vater, Hansel und Gretel/Humperdincki) and been afforded many other opportunities to advance his vocal training and studies. A graduate of DePaul University where he received a Bachelor's of Music in Vocal Performance, he is quoted saying "[Classical] Music kind of came out of nowhere and changed my life so, I'm just happy I'm to be a medium for authentic human expression and be able to give that back." LaRob continues to sing around the Chicago-area (William Ferris Chorale/North Shore Baptist Church) and hopes to gain healthy experience as an independent young artist.
Claire DiVizio is a singer, director, administrator, and teacher. Upcoming in the 2018/2019 season, Claire will appear as the playboy gambler Sky Masterson in a gender-bent rendition of Guys and Dolls with Janus Concert Series, and direct a double bill of new works with Thompson Street Opera Company. In recent seasons, she has appeared onstage with Mid-Ohio Opera as Giorgetta in Puccini's masterful Il Tabarro, with St. Petersburg Opera Company as covering Leonora in Verdi's Il Trovatore and Antonia in Les contes d'Hoffmann, and with Cincinnati Chamber Opera as Salud in De Falla's La Vida Breve. She has directed works ranging from Handel to Gilbert & Sullivan to contemporary one-acts, and her work realizing premieres in particular has been praised by the works' composers and audiences alike. 
One of Claire's greatest musical passions is working with living composers. Claire has created seven opera roles, and premiered more than twenty concert works for voice, including art song, chamber music, and choral solos. Claire is also an active arts administrator.  In 2011, she created Thompson Street Opera Company, which is dedicated to producing new operas by both emerging and established composers.  The company resided in Louisville KY for four years, presenting a summer festival which has been featured in multiple news outlets including the Courier Journal, BroadwayWorld, WFPL (NPR affiliate), and Arts-Louisville.  In 2016, the company relocated to Chicago IL. They are now entering their third season in Chicago, where their achievements so far have included a sold-out performance, a commissioned work, a partnership with Adler University, and an upcoming partnership with Pride Films & Plays. www.clairedivizio.com / www.thompsonstreetopera.org
Caesar Sanchez is a tenor originally from El Paso, Tx. He has performed with El Paso Opera as a chorus member and performed roles as a Young Artist in La Boheme and The Marriage of Figaro. He has performed with Opera UTEP in the role of Tamino in Die Zauberflöte and Acis in Handel's Acis and Galatea for an international performance in the Kingdom of Bhutan. He is currently a music teacher on the south side of Chicago and is looking forward to performing more in often in the city.
Commended for her "fire and conviction" on stage,  American Soprano Angela Born is committed to bringing artistic integrity and authenticity to her performances. Praised for her "impassioned" performances (Chicago Classical Review), Ms. Born is frequently sought to perform new works, most notably the Chicago premiere of Lucinda in Nico Muhly's Dark Sisters. Additional roles include Maria Luisa in Daniel Crozier's With Blood, With Ink and Meg Murry in Libby Larsen's A Wrinkle in Time. Ms. Born is equally comfortable performing traditional repertoire and was most recently seen performing Serpetta in Mozart's La Finta Giardiniera and Ännchen in Weber's Der Freischütz. Upcoming roles include Patience in Paula Kimper's trailblazing opera Patience and Sarah. More information can be found at www.angelaborn.com.  
Soprano Katherine Bruton's clear voice and vibrant characterization brings opera and art song to life. Her nuanced musicality and virtuosic vocal fireworks have earned her the roles of Beth (Little Women) by Mark Adamo; Miss Silverpeal (The Impresario); Mabel (The Pirates of Penzance); Le feu (L'enfant et les sortileges); and Virtù (L'incoronazione di Poppea), among others.  She has also appeared with Chicago Fringe Opera, Forte Chicago, Pasadena Opera, the critically-acclaimed Pacific Opera Project, and Thompson Street Opera Company, among others.
An advocate of new opera, Ms. Bruton has been a part of several operatic premieres. Recently, Ms. Bruton has performed in the Chicago premieres of contemporary one-act operas as Darling Donnis (The Final Battle for Love) by Philip Thompson, Sang Kancil the Mouse Deer (The Mouse Deer and the Crocodile) by Hong-Da Chin, and Wing Tip (The Rootabaga Stories) by Yvonne Freckmann with Thompson Street Opera Company. She also had the privilege of creating the roles in world premieres of: Emily/Cosmic Kay in Cosmic Ray and the Amazing Chris by Eric Lindsay with Thompson Street Opera Company; The Queen of the Night in Ross Crean's opera Lost Daughters with Oberlin Mozart Players; and "La Saborini" in The Dove and The Nightingale by American composer Roger Bourland with OperaUCLA. She also appears on the original cast recording of The Great God Pan by Ross Crean, which is released on the NAXOS/PARMA Records label. 
Ms. Bruton also has a passion for art song, especially new art song. She has given premieres of several art songs and art song  cycles, including Littles by Michelle Isaac and Personal Weather by Pin Hsing Lin. While at SongFest in Los Angeles, CA, Ms. Bruton had the privilege of working with fabulous collaborative pianists Graham Johnson, Martin Katz, Margo Garrett, and Kathleen Tagg.  She has also performed in concert with American composer John Musto.  Her passion for art song also extends to Russian art song, which she has performed consistently since Russian baritone Vladimir Chernov introduced her to the language and repertoire during her undergraduate studies at UCLA. 
Ms. Bruton studies with soprano Alexandra LoBianco and has her Masters of Music degree from Chicago College of Performing Arts where she studied with soprano Judith Haddon.  She also received bachelors' degrees in vocal performance and music education from UCLA, where she studied with Vladimir Chernov.  She is a proud OperaWorks alumna and has also attended Songfest in Los Angeles, CA and the Summer in Payerbach Opera Intensive in Austria. Learn more about Katherine and her upcoming performances at www.katherinebrutonsoprano.com.
Thomas Bailey is an Illinois native and a strong advocate for new music. He received his MM from the Chicago College of Performing Arts at Roosevelt University, and currently studies with Allan Glassman. Based in Chicago, Thomas seeks out and supports new music experiences as often as possible. He was recently seen onstage as Meyrick in Chicago Fringe Opera's production of The Great God Pan, and will continue to do work this season with Midwest Institute of Opera, Third Eye Ensemble, and Janus Concert Series.
Sarah Thompson Johansen is quickly establishing herself as a passionate and expressive young soprano on opera and concert stages, with performances hailed as "vocally strong" (Milwaukee Journal-Sentinel) and "provid[ing] much joy" (Fanfare Magazine).  She made her professional operatic recording debut in 2017 with the release of Ross Crean's The Great God Pan on Navona Records/PARMA Recordings, distributed by Naxos of America. Sarah created the role of Helen in Crean's chamber opera, based on Arthur Machen's 1894 horror novella. 
In February 2019, she will return to Thompson Street Opera Company to perform the role of Artistic Director in Sean Ellis Hussey's ...for the sake of a narrative closure, part of TSOC's annual Faulty Systems event. 2017-2018 season engagements for  included a recent run as lead/ensemble in David Lang's the little match girl passion, in a staged performance with Facility Theatre, lauded by critics as "nearly unimpeachable" (Chicago Reader). In March 2018, she performed the role of Nicchia in work-in-progress stagings of composer Phil Fried and librettist Ruth Margraff's The Locket Arias, presented in collaborations with School of the Art Institute of Chicago (SAIC) and Red Tape Theatre. January 2018 marked her first appearance with Kirk Muspratt's New Philharmonic in La traviata, where she covered Annina. In September 2017, she was featured by Chicago's innovative Thompson Street Opera Company as Steampunk Girl in their world premiere of Eric Lindsay's newly completed opera Cosmic Ray and the Amazing Chris. Additionally, the 2017-2018 season saw Sarah debut as an outreach/teaching artist as the title role in Rusalka with Chicago Opera Playhouse, and as a member of The Lira Ensemble, the United States' only professional performing arts organization dedicated to Polish music, and artists-in-residence at Loyola University, Chicago. In summer 2017, she added to her growing performance resume of American opera roles as Beth in Adamo's Little Women with Chicago Vocal Arts Consortium. 
In previous seasons, Sarah has appeared as Lisbe in Zémire et Azor with Skylight Music Theatre, Zina in Dark Sisters with Third Eye Theatre Ensemble, Zerlina in Don Giovanni with The Floating Opera Company, Suor Dolcina in Suor Angelica with Opera West, and Susanna in Le nozze di Figaro with Concertia. 
Sarah is a strong advocate for and frequent performer of new classical music. She serves as a board member of Thompson Street Opera Company, and is both a regular soloist and a co-managing Div@ with New Brew Chicago, Opera on Tap Chicago's new music focused division. 
When not appearing onstage, Sarah maintains an interest in costuming and textile arts. In 2018, she designed costumes for Opera on Tap Chicago's production of Der Freischütz, Thompson Street Opera Company's April 2018 double bill of Dust of the Road and Bobok, and served as costume designer for Northwestern University's Summer 2018 Intensive Vocal Seminar showcase revue of The Impresario and other works.
Before adopting Chicago as her home base, Sarah performed a variety of roles in her native state of Iowa, appearing as Juliette in Roméo et Juliette, Josephine in H.M.S. Pinafore, The Governess (cover) in The Turn of the Screw, Nymph II in Euridice, and Woman Blessing Candles in the world premiere of The Sparks Fly Upward. She was also a founding member of Des Moines opera collective Opera Eight.
Sarah earned an Master of Arts in Voice/Opera from the University of Iowa, where she studied under soprano Rachel Joselson, and a Bachelor of Arts in Music/Voice from Central College. She currently studies voice with Pamela Hinchman of Northwestern University. 
Extolled as a "fierce creative," Marysa Abbas is a Minnesotan mezzo-soprano based in Chicago. A passionate performer of new works, Ms. Abbas has performed with the Minnesota Opera as a chorus member in the critically acclaimed world premiere of Paul Moravec's The Shining. Recent World Premieres: Trevor in the Chicago Fringe Opera production and Naxos/Parma recording of Ross Crean's The Great God Pan, and Mrs. Darling in Ross Crean's Lost Daughters.  In the 2018/19 season, Ms. Abbas is singing the role of Donna Anna in the Chicago premiere of Ross Crean's The Times Are Nightfall, a grindhouse-inspired sequel to Don Giovanni, as well as the role of Opera Critic in Thompson Street Opera Company's production of for the sake of narrative closure.
In Chicago, she has performed: Dorabella in Cosi fan tutte, Grace Ansley in Roman Fever, Miss Manners in Miss Manners on Music, and Virginia Woolf in a staged performance of Dominick Argento's Pulitzer award-winning From the Diary of Virginia Woolf. She recently sang in the Chicago premiere of The Final Battle for Love with Thompson Street Opera. She has also been an apprentice artist with Sugar Creek Opera for their production of Ricky Ian Gordon's The Grapes of Wrath.
An avid concert soloist, Ms. Abbas's concert work includes performances as the Alto soloist in The Messiah with KI Concerts in London and Second Presbyterian Church in Chicago, the Alto soloist for the Vivaldi Gloria with Crowder College, a premiere of new works by Myron Silberstein, as well as the Alto soloist for Michal Dzitko's Soundscapes of Color, an immersive operatic piece that creates an art gallery for sound. She recently debuted "Here, There, and Everywhere: Queer Themes in Classical Music," a newly programmed recital exploring queerness in classical music, at Grace Lutheran Church in Wenatchee, WA.
Ms. Abbas has previously performed with the Minnesota Opera as a chorus member for their 2015 production of Carmen. While attending Wichita State University, she sang Valetto (L'incoronazione di Poppea), Maddalena (Il viaggio a Rheims), and La Zelatrice (Suor Angelica) with WSU. Scene studies at Wichita State include Octavian (Der Rosenkavalier) and Meg (Little Women). At this time, she also had the opportunity to cover Hansel (Hansel and Gretel) for Heartland Opera Theatre.
Her Bachelor of Music is in Vocal Performance, and was obtained at Viterbo University under the tutelage of Jean Saladino. She completed her Master of Music in Opera Performance at Wichita State University, where she studied with Deborah Baxter. She has also studied privately with Jean del Santo, Karen Brunssen, and Julie Miller. She currently studies with Alexandra Lo Bianco. Ms. Abbas works as a Managing Diva of Opera on Tap's Chicago chapter, as well as a producer and drag king in the Chicago area. She is the founder of Praxilla Femina, a women's music collective in Chicago.
Cody Michael Bradley has wide-ranging experience as a singer, pianist, vocal coach, music director, and conductor. Currently on the faculty of Loyola University, he has previously worked at the College Light Opera Company (MA) and spent one season at Opera in the Ozarks (AR) as both singer and pianist. In 2016 he spent his second season as a piano fellow at the Bay View Music Festival (MI), where he also conducted part of an opera scenes program. Recent regional credits include productions with Chicago Fringe Opera, Petite Opera Productions, and Thompson Street Opera. Cody works with numerous Chicagoland schools, churches, and community service groups as a pianist and serves as a vocalist and assistant conductor with the Apollo Chorus of Chicago.
OUR COMPOSERS:
Kyra Leigh is Southern Belle transwoman (transgoddess some might say) with classical training now living safely about the Mason- Dixon Line. She has an extensive background in both music and theatre. In Houston, she acted as a composer and performer two years in a row for the prestigious Stewart Ostrow Musical Theatre Lab. In Chicago, she has performed with theatres such as the Jeff Award-winning Theo Ubique and The National Pastime Theatre. She's also written extensively for Prop Thtr in recent years. She's performed as a solo singer/songwriter at venues such at Mary's Attic, Park West, The Abbey Pub, and Davenport's Cabaret and Piano Bar and earlier this year released her debut full length album, Transfigure. She also serves as a director at the Chicago School of Rock and music director at the Theatre of Western Springs and Prop Thtr (and most recently with Jedlicka PAC). She's also an active church musician with North Shore Baptist (where many of her choral pieces and arrangements can be heard) and has worked with Church of Our Savior and St. Thomas the Apostle church. She is a passionate advocate for trans visibility in both the worlds of pop music, classical music, and theatre. You can find her on social media under Kyra Leigh. 
Recent years have seen composer Steven Serpa working with ensembles and opera companies around the country. His An Invocation, for oboe and string orchestra, was premiered by the Austin Symphony Orchestra and performed on the TreeFalls new music series in Spartanburg, South Carolina. Theater critics have praised his one-act opera Thyrsis & Amaranth as a "truly beautiful, magnificent little story jammed full of thought and feeling and meaning" with "gorgeous music and wrenching lyrics." Since its premiere, it has been produced by opera companies in Austin, Cincinnati, Halifax, Hartford, St. Louis, and recently at Syracuse University. Upcoming projects include james (book of ruth), an oratorio tackling HIV stigma being premiered this December in Los Angeles by the Chorosynthesis Singers and Urlicht Fantasy, a concertante work for solo horn and chamber orchestra for the Hartford Independent Chamber Orchestra. Originally from Rhode Island, Steven has earned degrees in vocal performance, early music performance, and composition. He's studied with composers Tom Cipullo in New York, Larry Alan Smith and Stephen Gryč at the Hartt School, and with Donald Grantham and Dan Welcher at the Butler School of Music of the University of Texas at Austin, where he is currently a doctoral candidate in composition.
Mo Zhao is a Chinese-American composer and pianist. She holds a Master's degree in composition from the Guildhall School of Music and Drama in London. Her music has been performed across the United States, United Kingdom, and Europe in venues including the Barbican Centre, Wigmore Hall, and Saarland State Theatre. Recent performers of her music include the EXUADI Vocal Ensemble, Plus-Minus Ensemble, Chinese traditional musician HE Tao, and Grammy-nominated string band ETHEL. She has participated in music festivals including TUTTI and Women Composers Festival of Hartford. Her composition teachers include Matthew King, Martin Amlin, Brett Abigaña, NarcisBonet, and Ketty Nez. She has received additional training in composition and piano performance at San Francisco Conservatory of Music, London Royal College of Music, and La ScholaCantorum de Paris.
As an active pianist, Mo Zhao has performed solo piano recitals presented by Sherman Clay. She has appeared in Master classes with Frank Wiens and Roy Bogas. She has studied piano at San Francisco Conservatory of Music with Mack McCray during her undergraduate degree. Outside of traditional classical repertoire, she has also played for musicals as well as for Latin jazz ensemble. In addition to composing and performing, she offers music lessons in the East Bay.
Paula M. Kimper, a graduate of the Eastman School of Music, is active in New York City as a composer for opera, theater, dance, film, and song. Ms. Kimper's first opera, PATIENCE & SARAH, with librettist Wende Persons, is based on the novel by Isabel Miller and premiered in Lincoln Center Festival 98. The Act II Duet, "I want to live," on CRI's release Lesbian American Composers, won two 1999 GLAMA Awards. Further productions have taken place in Denver, Chicago, England, and Oakland, CA. (More at: www.patienceandsarah.com.)  In 2002 Ms. Kimper was commissioned by the Pocumtuck Valley Memorial Association to compose an opera for the 300th anniversary of the 1704 Raid on Deerfield, Massachusetts.  THE CAPTIVATION OF EUNICE WILLIAMS, with libretto by Harley Erdman, premiered in July 2004, at the Reid Theatre of Deerfield Academy.  It was performanced at the Smithsonian National Museum of the American Indian, in Washington, DC, in October, 2006, and toured the Balkan region from July - September 2008.  Old Deerfield Productions has commissioned TRUTH, an opera about Sojourner Truth, which will premiere in February 2012 at the Academy of Music in Northampton, MA.  Excerpts from Kimper's opera based on Thornton Wilder's Pulitzer Prize-winning novel THE BRIDGE OF SAN LUIS REY were featured in the "New Works Sampler" at Opera America's National Conference in Pittsburgh, PA.  The Orchestra Suite from the Bridge of San Luis Rey was premiered by The Danbury Community Orchestra in May 2007 under the direction of Stephen M. Smith.
Ms. Kimper has composed music for theater since 1986, producing scores and sound designs for Old Deerfield Productions, the Boston Post Road Stage Company, Stamford Theatre Works, Washington Shakespeare Company, Westport Country Playhouse, and The White Barn Theater.  She performed and scored Don Juan, a new translation of Moliere in 2007.  Douglas Moser's A CHRISTMAS CAROL,featuring Kimper's score, won the 1992 Connecticut Critics Circle Award for Best Adaptation of a Classic. 
Ms. Kimper appears as guitarist with singer Elaine Valby, and dancer/choreographer Amy Pivar in an ongoing collaboration called Songs for Solo Dance and Voice.  The trio performed at New York's 92nd Street Y in December 2009.  March 2007 saw the premiere of EMPTINESS, commissioned by Pivar for performances at Dance New Amsterdam in New York City, which can be veiwed at www.viddler.com.  Kimper's score BONUS ROUND, for dancer/choreographer Richard Daniels, premiered in the August 2002 Toronto Fringe Festival, and premiered in New York at the Connelly Theater in April 2003.  BROKEN TALE OF MOUSE, with Pivar and Rosen, premiered at Wings Theatre in 2000.
A 2010 commission by The Phoenix Concerts, Kimper's arrangement of Amazing Grace was premiered by the Finisterra Piano Trio with Gilda Lyons and Elaine Valby, voice, as a part of "The Hymn Tune Project."  The Restless Yearning Towards My Self, a setting of a poem by Perry Brass for Counter-tenor and string quartet was premiered by Downtown Music Productions in March 2008. Skinny Marys talk about faith, and 10 of 10,000: Mermaid Lullabys, scored for two voices and cello, were commissioned and premiered by Seraphim.  In November 2000 Ms. Kimper composed six songs on Heine poems for Heinrich Heine: DOPPELGANGER for American Opera Projects. In October 2000 her Fanfares for Specimen Days for brass quartet was the inaugural event of the Walt Whitman Project, which has also commissioned The Mystic Trumpeter I, Song of Myself #6, and various fanfares.  Where everything is music, an SATB setting of Rumi (translated by Coleman Barks), was co-commissioned by Sing Out Proud! Brooklyn and GALA 2000 Festival of Choruses, and most recently performed by Stonewall Chorale. 
Ms. Kimper has composed for films and television since 1987.  An award winning film, GLACIER BAY, directed by Douglas Moser, features music by Kimper and was released in the fall of 2006.  Other scores include music for: NINGALOO: Feast of the Whale Sharks, produced by Discovery; Health in America, and Does Making Things Matter? produced by WQED-TVin Pittsburgh; and Canal Street: River to River, produced by Frank Silverstein and WNYC-TV. Flight of the HARMONIC MESSENGER, a 1993 CD, has aired worldwide.  
Tony Solitro composes concert and stage music that is "fraught with tension" and "amusingly intricate." Politics, history, literature, drama, and visual art inspire his compositions. Examples from recent projects include: No More in Darkness, a meditation on Alexandra David-Neel's pioneering journey to Tibet; More Beautiful Than Night, a cycle of gay love songs interweaving romance, sensuality, and humor; living—despite | living—against, incorporating the syncopated rhythms of protest chants; and Les Bouteilles de la Table Ronde, a surrealist drinking song for women, integrated within a mixed-media installation.
Endlessly fascinated by vocal timbre and virtuosic singing, Tony's musical style is inherently theatrical and operatic. "Delightfully executed with sidesplitting hilarity," his mythology-infused romantic-comedy Triangle was hailed "a standout favorite" (Theater Times). Commissioned by Boston Opera Collaborative and premiered in partnership with Boston New Music Initiative, it was praised for its "spiky, smashing, blasting" orchestrations (the Intelligencer). In his 2016 vignette She's Fabulous—a "wonderfully humorous" satire featuring two bitter opera divas—Solitro conjured "spastically dramatic and emotionally volatile music…juxtaposing lush arias with brisk recitatives" (the Intelligencer).
Winner of the Cheryl A. Spector Prize from the Third Millennium Ensemble, Tony's string quintet Shadow Confrontations was composed for bassist Joseph Conyers (Assistant Principal, Philadelphia Orchestra) and recorded with the Daedalus Quartet. He was awarded fellowships and artist residencies at Yaddo, Brush Creek, Kimmel Harding Nelson, VCCA, and the Brevard Music Center. He earned his Ph.D. as a recipient of the George Crumb Music Fellowship from the University of Pennsylvania and his M.M. from the Longy School of Music on a Nadia and Lili Boulanger Scholarship. To hear recordings, see videos, and explore his composition catalogue, visit www.tonysolitro.com.
Ross Crean jokingly says they "write strange music that they like to listen to when they are by themself, eating raw cookie dough in a dark closet," but in truth, their music has been referred to as being "funny...and virtuosic" (Classic Concert Nova Scotia), having "exceptionally different, outstanding quality" (Download), and music that "stirs you deep, undertones of humanity" (Access Contemporary Music). Composing and creating music with a focus on the evocative and lyrical, they began their professional career as a Bass-Baritone, specializing in avant-garde and Contemporary Classical music, many of which were their own compositions. While pursuing their Masters at Illinois State University in Composition, they have studied with Stephen Taylor, David Feurzeig, and Nancy Van de Vate. 
As an undergraduate in Vocal Performance at Saint Xavier University, they have trained in several vocal styles, including rock, opera, sean-nós (traditional Gaelic singing), and Indian and Middle Eastern vocal ornamentation. Crean's emotionally-violent monodramas Missa Dementia, The Mysteries of Uncle Archibald, and Xenophysius Obscura (The Stranger's Nature in Darkness) brought the composer/ performer much critical acclaim throughout Europe. Their comedic song cycle The Passive-Aggressive's Guide to Mother Goose, completed in 2016, has already been performed in London, Philadelphia, Toronto, Halifax, Sacramento, Austin, London, and Chicago. Their opera, Lost Daughters, a story that brings together the characters of the Queen of the Night, Clytemnestra, and Mrs. Darling (Peter Pan) premiered in 2017 with the Oberlin Mozart Players. In March 2018, Crean's opera The Great God Pan premiered in Chicago with Chicago Fringe Opera. The Times Are Nightfall, their most recent opera, had its world premiere on July 1st, 2018 at The National Opera Center in New York, and will return to Opera America for its full instrumental ensemble performance on October 20, 2018. A collection recording of Ross' art songs, Songs for the City, Hymns to the Dream, will be released in November 2018.
A prolific collaborator, Crean has received commissions from and worked with numerous artists, including internationally renowned mezzo-soprano Heidi Skok (formerly with the Metropolitan Opera), The Mozart Players at Oberlin College, Opera on Tap (Chicago and New York), and Loyola University Museum of Art. Their musical work has also been featured on Skope TV, Much Music, Fuse TV, and Comcast OnDemand. A multi-genre artist, they founded their own record label, Knight & Thorne Music, and continues to perform worldwide as a solo artist. Ross is also signed as a composer on the PARMA Recordings/ Navona Records label, and released the recording of The Great God Pan in August 2017. They are currently Resident Composer and Creative Director for Nebula Creatives, a multimedia firm based in Chicago.  www.rosscrean.com 
OUR DIRECTOR:
Amy Hutchison's "fascinating, brilliantly mounted double bill" production of Donizetti's IL PIGMALIONE and RITA for Chicago Opera Theater wowed audiences and critics alike. Hutchison has also championed American opera throughout her career. She recently staged AS ONE at The Center on Halsted and curated a Trans Artist Showcase in conjunction with the production.  Her production of Missy Mazzoli's SONG FROM THE UPROAR: THE LIVES AND DEATHS OF ISABELLE EBERHARDT was hailed as "imaginative" and "striking contemporary music theater." She has directed William Bolcom's A VIEW FROM THE BRIDGE for Teatro dell'Opera di Roma, Washington National Opera and Portland Opera. Her collaboration with Ricky Ian Gordon and Stacey Tappan, ONCE I WAS: SONGS BY RICKY IAN GORDON, was staged at the Chicago Cultural Center and recorded on the Blue Griffin label. Hutchison's production of William Grant Still's epic masterwork TROUBLED ISLAND for South Shore Opera Company was named the number one classical music event of 2013 by the Chicago Sun-Times. Other productions for South Shore Opera Company include: Steven M. Allen's THE POET, Joelle Lamarre's THE VIOLET HOUR: THE LIFE OF LEONTYNE PRICE; Jonathan Stinson's THE MARCH: A CIVIL RIGHTS OPERA PROJECT and Samuel Coleridge-Taylor's DREAM LOVERS and AFRICAN ROMANCES. Other Chicago area productions include Leo Fall's MADAME POMPADOUR (Chicago Folks Operetta), BRIGADOON (Music By the Lake), FAUST (DuPage Opera) and Ned Rorem's OUR TOWN (DePaul Opera Theatre). Productions nationwide include several productions of CARMEN (Kansas City, Milwaukee, Columbus), TURANDOT (Orlando), DON PASQUALE (Indianapolis), LA TRAVIATA (Costa Mesa), IL MATRIMONIO SEGRETO (Boston), and Menotti's HELP! HELP! THE GLOBOLINKS! (Madison). 
She has served on the directing staffs of Lyric Opera of Chicago and Houston Grand Opera.  She has staged the Maurice Sendak production of HANSEL & GRETEL for Opernhaus Zürich, The Juilliard School (televised for PBS: Live from Lincoln Center) and for the Canadian, San Diego, Indianapolis, and Baltimore opera companies.  As Associate Director, Hutchison has staged PORGY AND BESS throughout the United States and globally, including Milan's Teatro alla Scala, L'Opéra National de Paris, Teatro La Fenice, and opera houses in Düsseldorf, Lucca and Tokyo.  
Dedicated to artist training, Hutchison has been a faculty member of The Bienen School of Music at Northwestern University, Westminster Choir College and its CoOPERAtive Training Program, as well as directing and coaching the young artists of Lyric Opera's Ryan Artist Center and Houston Opera Studio.